Premixed & Frozen Resins
KitPackers is a leading supplier of premixed and frozen (PMF) resins. PMF refers to the blending, packaging, and freezing of two component resin/catalyst systems. KitPackers provides PMF epoxy, silicone, urethane, and polysulfides in various syringes and cartridges.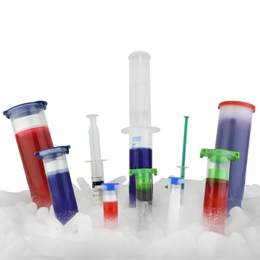 Premixed & Frozen Resin Packaging
PMF packages are convenient and reliable, as the operator simply must thaw and dispense. The end user can use our PMF packages with total confidence knowing that KitPackers precisely weighs, mixes, degasses, and packages two component systems, then flash freezes the package and contents at –80 °C.
Syringes from 1 to 55 cc are the most common PMF packages, but larger cartridges from 2.5 to 32 oz are possible with some resin/catalyst systems in certain applications. We also provide PMF materials in jars and cans.
The end user must have a –40 °C or lower freezer available in order to store PMF packages shipped to them on dry ice overnight. Our PMF-insulated cartons require special handling when received and are labeled accordingly. They must be inspected for presence of remaining dry ice and then promptly transferred to the –40 °C freezer for storage. Handling, storage, and thawing instructions are available.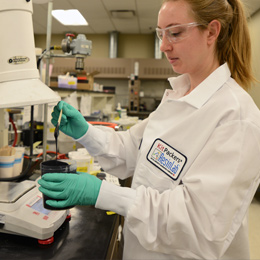 Premixed & Frozen Resin Material Modification
KitPackers specializes in the modification of resin/catalyst systems particularly for PMF packages, as it's simple to add a third or fourth ingredient to the system during the mixing process. For example, KitPackers stocks 14 different sizes of precision glass spacer beads and adds them to a variety of Dow Corning, 3M, and Henkel products.
Further, KitPackers can add adhesion promoters, pigments, fluorescent indicators, as well as fillers to increase viscosity, thermal conductivity, and improve other physical properties.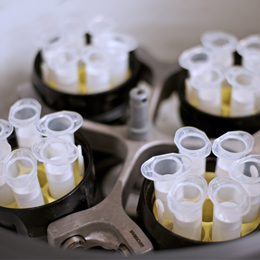 Premixed & Frozen Resin Centrifuging
KitPackers has the capability to centrifuge syringes 55 cc and smaller after filling to ensure the syringes are air free. The premixed material must have enough pot life to allow for the extra centrifuging step and some materials are not suitable for centrifuging. We provide samples for evaluation and approval to make sure the PMF packages meet our customer's production requirements.
Connect with a KitPackers representative to learn more about our premixed and frozen resins.
We jointly determine a package size and batch size to provide our customers with the work life they need to utilize the entire package, minimizing waste and maximizing efficiency. Once we determine a process, we repeat that process for every order to ensure consistent product.