Documentation & Labeling
Documentation
KitPackers is ISO 9001:2015 registered and therefore maintains a quality management system that provides products and services which are continually improving to meet industry standards. This quality registration sets us apart from our competitors and allows KitPackers to be a preferred supplier for industry-leading manufacturers. Alongside the packaging services that KitPackers provides, there are many records that can be delivered with the product. These records offer a guarantee to our customers that the KitPackers product meets certain standards or criteria.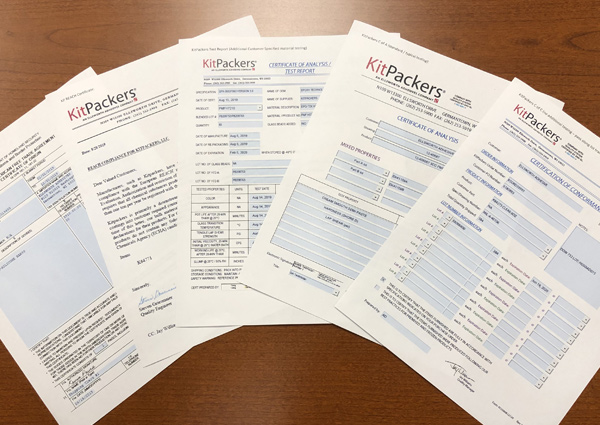 Manufacturer Certificates (COA) are free of charge when provided free from the manufacturer. KitPackers will collect the manufacturer's certificate when procuring material for packaging and ship with the packaged material upon request.
KitPackers Certificates of Conformance (COC) are available upon request and are free of charge. These certificates are our guarantee of traceability by lot to the manufacturer's material.
Manufacturer Test Reports with special product testing requirements are purchased from the manufacturer and supplied upon request.
Additional Material Testing can be provided by the KitPackers Quality Lab. A COA can be provided as a separate charge or as a charge built into the product cost. KitPackers customers often need additional testing, with results provided by the COA, to ensure materials conform to certain standards for certain manufacturing processes.
REACH Compliance Certificates are available upon request. REACH is a European Union regulation that addresses the production and use of chemical substances.
RoHS Compliance Certificates are available upon request. RoHS is a European Union regulation that addresses the production and use of certain hazardous substances used in electrical and electronic equipment.
KitPackers is ITAR compliant which may be a required when handling certain controlled chemicals. International Traffic in Arms Regulations is a US regulation that controls the export of defense and military related technologies.
Certificates of Origin (and NAFTA Certificates) are supplied upon request and are free of charge. This document may be required during import when official certification is required for product country of origin.
Labeling
KitPackers understands the value that material labeling brings. Clear and accurate data combined with proper label placement are important to our customer's processes. To accomplish this, KitPackers has developed a highly integrated labeling system that significantly reduces manual data entry errors. Combining these standards allows our customers to rely upon product labeling for improved product traceability, product quality, and employee notification. KitPackers can provide full color labels with standard formatting to fully customizable color labels.

Standard Labels
KitPackers standard labels contain pertinent product information as well as OSHA-required GHS information. KitPackers labeling system ensures the GHS data obtained from the related manufacturer's product Safety Data Sheet (SDS) remains fresh and automatically updates every time a label is generated. KitPackers will include the eight data points that are required to be on a chemical label per OSHA.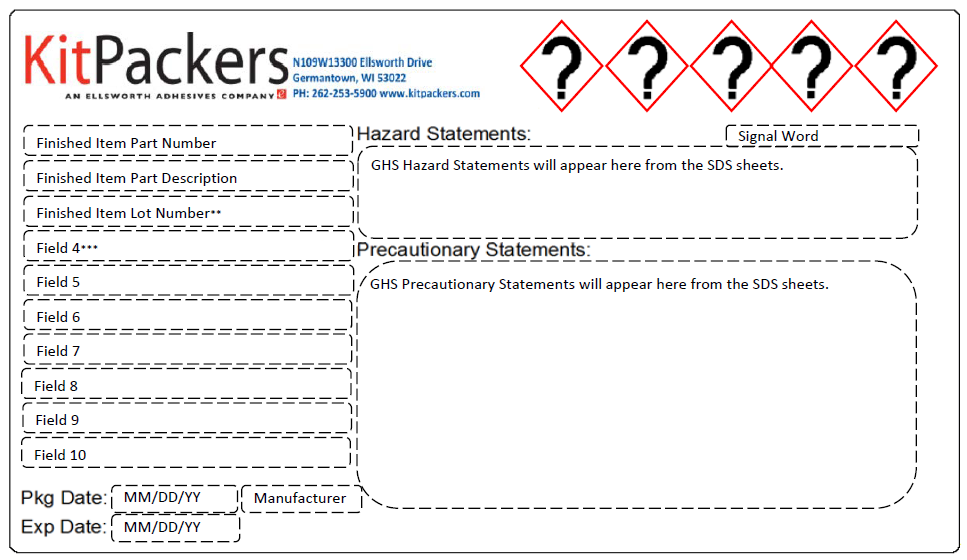 Those required fields include:
Company Name / Product Manufacturer
Company Address
Company Phone Number
Product Identifying Name
Signal Word (Danger or Warning)
GHS Pictograms that Represent Hazards
Precautionary Statements
Hazard Statements
Standard labels contain other product attributes including product lot number, date of package, and product expiration date. Other data points that our customers commonly prefer to see on the label include a part number cross-reference, purchase order number, or drawing reference. This data is integrated into KitPackers software system, which eliminates the need for manual data entry and provides for high quality and accurate labels.
Custom Labels
KitPackers can also produce custom labels. Provided that OSHA labeling rules for chemicals are followed, there isn't a limitation to label customizations. KitPackers can offer full private labeling with logo, design, and artwork provided at the customer's direction. Other customizations include bar-coding, REACH/RoHS compliance information, HMIS and other safety designation information, and Proposition 65 compliance information. KitPackers collaboratively works with customers to achieve these customizations while ensuring OSHA required product elements are properly represented.


Questions on documentation and labeling? ConnectConnect with one of our experienced representatives today.